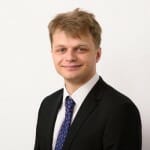 Title:          Education Services Accountant
Current:  Thomas is studying for his professional qualification as a Chartered Accountant with the Institute of Chartered Accountants in England and Wales (ICAEW).  He has a strong personal background in education and finance giving him a unique insight into the effective running of academies and trusts.
History:   Thomas graduated from the University of Reading in 2014 with a BSc in Statistics, he has gained  volunteer and work experience with:
Waitrose as a warehouse worker
Assisting groups with handicapped and underprivileged children.
Interests:   American politics, Watching UFC (Ultimate Fighting Championship)