Schools and Academies Accountancy Services
Our accountancy support and advice liberates Academies and Schools from the stresses and uncertainties from the financial management and compliance.
The support guidance and advice our educational team give is designed to help meet the requirements of the ESFA and the Academies Financial handbook.
Our expert advice and cost-effective help on:
| | |
| --- | --- |
| Changes within the finance function as the Trust is evolving and growing | Assisting with appointing both, internal and external auditors |
| Assistance with completing ESFA returns, including the annual BFR | Guidance throughout the process of updating your accounting software |
| Finalising your trial balance prior to audit and liaison with the auditors | Using benchmarking to identify savings |
| Accountancy within the Trust | Working closely with your SLT to simplify procurement |
| Budgets preparation and monitoring including multiple year forecasts | Creating robust financial policies and procedures |
| Working with external auditors to help you focus on what you do best | |
| Assistance if a key member of finance staff must take a leave of absence | |
| Reporting of financial and management information to finance committees, Board of Governors or Trustees | Setting financial targets and helping achieve them |
""I was really pleased that our first audit we had a really excellent outcome. The feedback was that this was one of the best audits from any new trust that has converted."
Keri Edge, CEO of Agate Momentum Trust

Do you need immediate help with
Preparing your BFRO
Help prepare your BFR3Y
Academy Accounts Return
Teachers' Pension Scheme Audit
Pre and Post conversion
Assist with Annual Accounts & External Audit
Budget setting and 3-5 year forecasts
If so book your complimentary one to one discussion on 020 8532 9843 or email: academies@alanpatient.com
Due diligence – most important when schools are looking to join multi academy trusts to ensure there are no nasty surprises after joining.
Pre conversion support – there are a number of new reporting requirements and challenges for schools when becoming an academy. There are tight deadlines after becoming an academy, and we look to provide the school with the right level of support to ensure they have the right tools to deal with the issues that arise whilst meeting deadlines.
Post conversion support – those academies that have recently converted (or even those who did so a while ago) may find they are lacking the specific skills needed to adhere to the new requirements of being an academy. We can help to boost the finance function of schools through support, training and assistance on how best to run this function.
Advice on accounting software – through preferred established suppliers we are able to provide support and guidance on how best to run your finance function using the software solutions appropriate for you.
Advice on tendering – many academies struggle with this and we can help outline systems and controls to ensure that the tendering process runs smoothly ensuring that value for money is achieved.
"Alan Patient & Co assisted us through a period of change. They have helped update our financial controls, advised on and implemented new accounting software and aided us in maintaining budgetary controls to help us grow from 900 going up to 1,500 pupils. I used to find monthly budgetary meetings daunting, feeling that I was being talked to in another language." [Read more...]
Mr Seager, Stratford School Academy

Download our FREE Booklets below
We have a team of five consultants available including
one of our partners and a senior manager dedicated
to this sector, who would be able to come to your
premises and assist right away. We will outline the work
we do, and give you a clear estimate on how long it
will take and agree the price up front with you.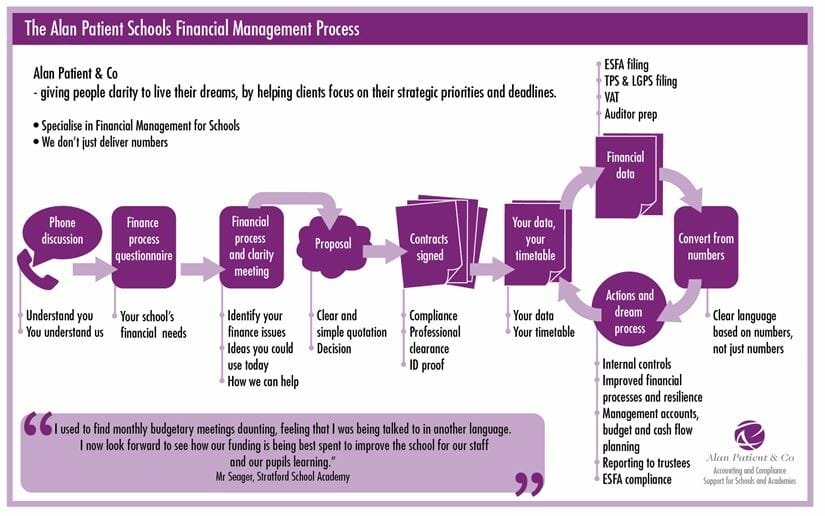 What Clients say about us.
We converted in June 2017 and formed a Multi Academy Trust. The process had been challenging, devoting as much time as possible to getting the Trust going to ensure a smooth transition. We knew we needed assistance with the required reporting and financial accounting elements of being an Academy; and Alan Patient were incredibly supportive with this process and ensured we met the strict deadlines, they were also able to provide good advice and support with Trustee meetings and Annual Audit requirements. Any school about to convert to an Academy [Read more...]
Mrs Bingham, Britannia Education Trust

Converting two schools into a new Multi Academy Trust we knew that we were going to need all of our finance staff to be at the top of their game. Ensuring that we were suitably prepared to take on new converter schools in the near future was a priority. Having experts on your side [Read more...]
Mrs Edge, Agate Momentum Trust

ESFA Statutory returns have never been a task I have enjoyed, and with our Trust having rapidly grown to a 7-school MAT, the complexity of the returns had significantly increased, I knew I needed specialist help. Chris and his team have removed the burden from me, and I am assured that our Trust will never miss a deadline for any ESFA returns! Since working with Alan Patient & Co, I am confident that I can "ask the expert", Chris and Thomas are available by 'phone, email and in person, to support me in my role, as Great Learners Trust
Business Manager
Nicola Tomlin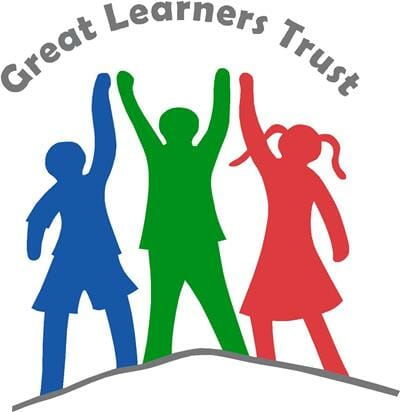 These companies specialise in Schools and Academies and we are happy to recommend them.
Taylor Associates
Taylor Associates provide Schools and Academies with audit services, they have a team of experienced staff giving a great service. Taylor Associates are registered auditors based in Finchley London.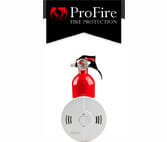 They are a family run fire protection company working in London and Home Counties ensuring Businesses and Academy Schools are safe and compliant for their fire safety requirement.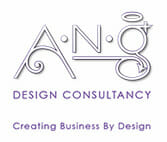 Angie Phillips is a Graphic Design Consultant working with SME's across the UK to promote and build their businesses. Working with people who value good graphic design and understand the benefit and quality it brings to their business. [read more]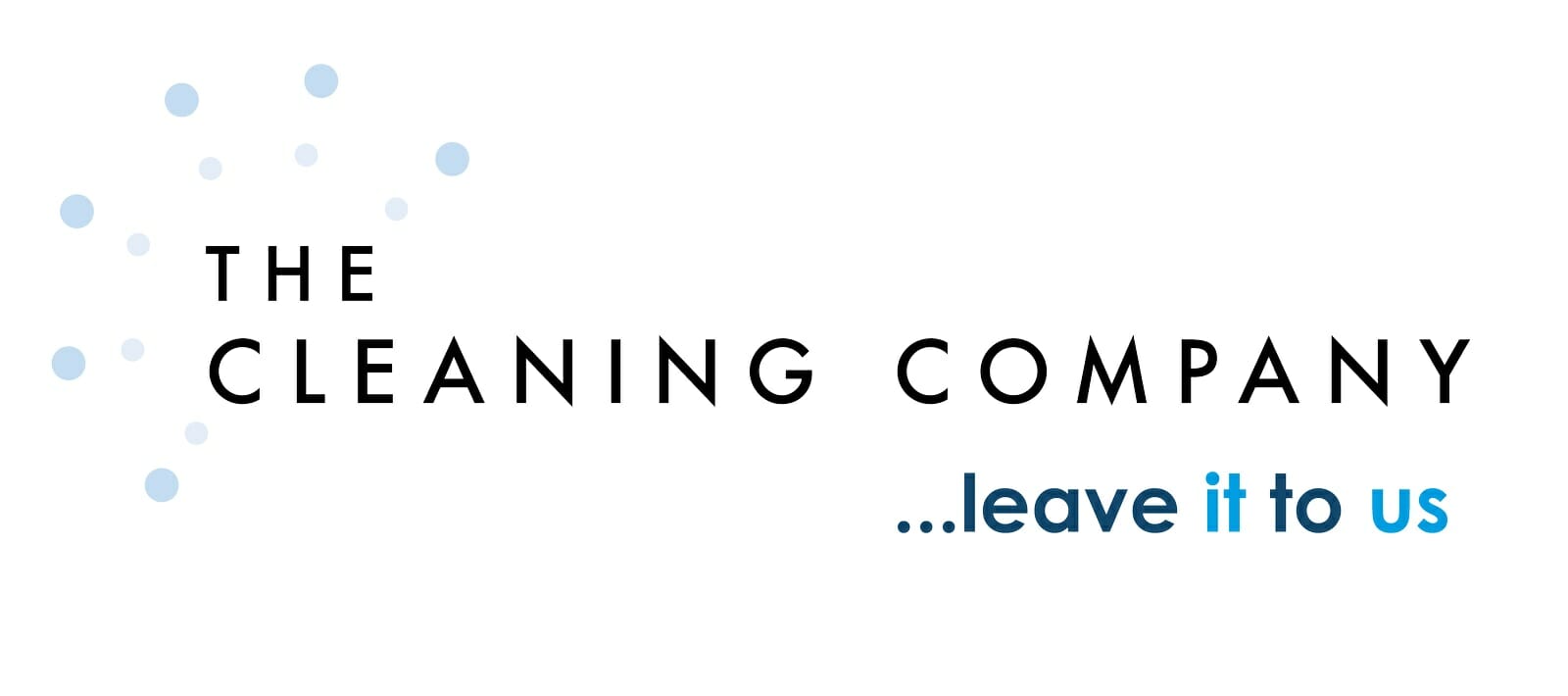 The Cleaning Company
The Cleaning Company has been providing outstanding commercial cleaning for over
ten years across and around London. We understand the impact that a clean, safe cleaning service of the highest standard has on a business because of the reflection this has on your brand reputation and performance.