Alan Patient provide are here to provide you with a very specialised service within schools and Academies in how to  'Solving your Internal Audit issues'
We are reaching out to you and would love to talk to you about the change in Ethical Standards requiring Academy Trusts to have separate Internal and External Auditors.
Did you know that We have years of experience dealing with Internal and External Auditors of Academy Trusts.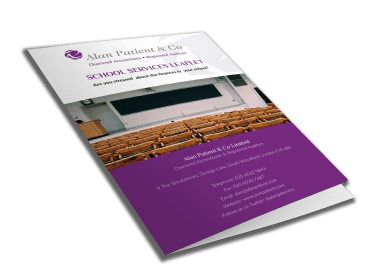 How we support the trusts by:
Providing Financial Management
Compliance advice and believe
we can help you in continuing to assist your Academy Trust clients audit and assurance needs by offering to provide their Internal Scrutiny requirements.
We work with External Auditors to help you focus on what you do best.
""I was really pleased that our first audit we had a really excellent outcome. The feedback was that this was one of the best audits from any new trust that has converted."
Keri Edge, CEO of Agate Momentum Trust  
We have a team of five consultants available including
one of our partners and a senior manager dedicated to this sector, who would be able to come to your premises and assist right away. We will outline the work we do, and give you a clear estimate on how long it will take and agree the price up front with you.
Please get in touch
I would be delighted to talk to you about how we can work together on how best to deliver on your clients' needs.
Alan Patient and Co works to liberate schools from the stresses and uncertainties from the burden of financial management and compliance. Also, Our expert knowledge and cost-effective advice will ensure your clients obtain value for money.  Please contact us. We look forward to hearing from you.