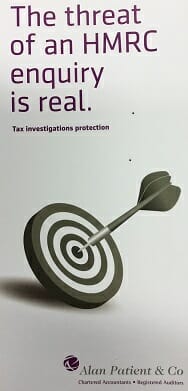 Did you know that HM Revenue and Customs enquiries activity is more focused and better targeted than ever before. In 2017-18, HM Revenue and Customs collected £30.3 billion through compliance activity. There are now, many more trained investigation specialists, who are using the latest technology and information at their disposal to launch campaigns and taskforces to maximise tax revenues.
HMRC's Connect System currently selects 9 out of every 10 enquires and is designed to identify those who may have paid too little tax.  Even if you've done nothing wrong, anyone can be selected – meaning no one is immune to scrutiny.
Once you have registered your accountancy services with us, we then provide a valuable tax investigations service which enables us to defend you in the unfortunate case that you are selected for an enquiry without worrying about the cost.  Our clients have the most comprehensive protection against any potential fees arising from professional representation in the event of an HMRC enquiry.